Come along next Tuesday (11), at 7 pm, for a public talk which will bring together artists Miro Spinelli (RJ, Brazil); Vinicius Pinto Rosa (RJ, Brazil), Henry McPherson (Scotland, UK) and Stephanie Black-Daniels (Scotland, UK).
Selected for the Open Bodies Residency 2018 – a programme conceived jointly by Despina and The Fruitmarket Gallery, with the support from the British Council and Creative Scotland -, the four artists are already working in their projects in our art studios. At the end of September, a special event will take place at Despina showing the results of this process.
INFO
Talk with artists participating in the Open Bodies Residency / Residência Corpos Abertos 2018
When: Tuesday, 11.09, 7 pm
Where: Despina (Rua do Senado, 271 – Centro).
Free admission
ABOUT THE ARTISTS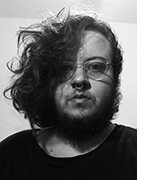 Miro Spinelli is a performer artist and researcher who lives and works in Rio de Janeiro, Brazil. He holds a Master's Degree in Performance from the Performing Arts PhD Programme at UFRJ (Universidade Federal do Rio de Janeiro). Currently, Spinelli is investigating how performance and its radical connection with materiality, writing and dissent can generate forces on the subjects, creating possible counter-ontologies. Since 2014, he has been developing  the continuous project and series "Gordura Trans" ("Trans Fat"), mixing performance, photographs, texts and installations.
This project has been presented in several Brazilian cities and abroad with the collaboration of artists such as Fernanda Magalhães, Jota Mombasa and Jup Pires. In 2017, he was awarded a scholarship (along with artist Luisa Marinho) to take part in a residence programme at the Andreas Züst Library, in Switzerland, where they developed together the "Chupim Papers", which shed light on themes such as precariousness, abjection, decoloniality, politics of affection and transgenderism, focusing on the body and its poetics and political potencial.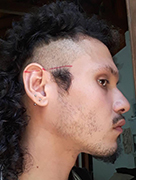 Vinícius Pinto Rosa lives and works in Niterói (RJ). He currently holds a Bachelor's Degree in Visual Arts from Universidade Federal Fluminense (UFF) and works as an assistant to Rio-based artist Laura Lima. His practice incorporates issues that cross identities and subjectivities in the production of objects and installations, with the body itself as a power of image and action, which, in turn, establishes new forms of relations, access and images of the world and of the other. His practice is very influenced by the universe of  a carpentry (where his father works and where much of his experience within the studio space takes place).
His works reach both performance and design fields and question constructions, polarizations and binary lines already established. They also reveal a hybridism and a multiplicity of activations and accesses that the body can create from a direct relation with the object. Vinicius has been developing the projects "Devices" and "Baseline" since 2014 and they have already been presented in several Brazilian galleries and art spaces.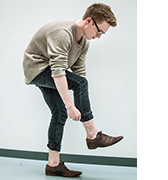 Henry McPherson is an inter-media artist based in Glasgow, Scotland. His practice in composition, improvisation and performance is embedded in mixed-media score-production, devised performance, present-time composition, cross and inter-disciplinary practice, through which he explores personal and collective identities, musical and otherwise performative traditions. Henry's work centres around the body-mind, score-object as mediator, the subject of invocation, impulse-led generation, queer and sustainable art practices, and meanings of ownership in collectively-generated improvisation. He is a founding member of Glasgow's mixed-arts collective EAST (Experimental Artists Social Theatre), KUI piano duo, and the chamber trio Savage Parade.
In recent years, Henry has collaborated with groups and individuals such as the BBC Scottish Symphony Orchestra, BBC Scotland, Martyn Brabbins, RedNote ensemble, The Glasgow New Music Expedition, Garth Knox, Zilan Liao and Germany's Ensemble Modern. He is a graduate of the Royal Conservatoire of Scotland composition dept., and is an award holder of the Dinah Wolfe Memorial Prize for Composition (2014); Scottish Opera's Opera Sparks Competition (2016); the Patron's Prize for Composition (2017); the BBC Scottish Symphony Orchestra Composition Club Prize (2017); the Harriet Cohen Memorial Music Award (2018); and was a nominee for the inaugural Scottish Awards for New Music (2017).
He has been awarded residencies at the Banff Centre for the Arts and Creativiy (CA, Alberta, The Creative Gesture: Collective Composition Lab for Music and Dance), Despina (Open Bodies Residency, Brazil, Rio de Janeiro, with the Fruitmarket Gallery Edinburgh) and Skammdegi Residency and Festival (IS, Olafsfjördur)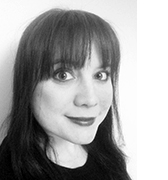 Stephanie Black-Daniels is a Scottish based artist living and working in Glasgow, having spent most of her early years and education in the Middle East. Most recently she has completed her Phd in Fine Art practice, with a specialism in performance at The Glasgow School of Art.  Since 2010 she has toured her work nationally and internationally to festivals and galleries in the UK, Berlin, Lithuania, Finland and Chicago. In 2011, she received the Athena Award by New Moves International and National Review of Live Art, Glasgow. Stephanie was also mentored by the late drag King pioneer Diane Torr.
She has a well-established facilitation practice, which is vital to the way she makes, researches and produces new work. Her most recent workshop was at Glasgow Sculpture Studios, looking at the 'Body as Sculpture'. Stephanie is interested how an object can change her interaction and intimacy with others, creating visual and poetic scores to act as a dramaturgical key to unlocking subject-matter or narratives for performance. Her work situates between a physical and sculptural practice, developing live and documented performative outcomes where sound, movement, image, object, light and costume intersect. Stephanie engages with performance as a way to explore the relationship between body and space, especially around gender and sexuality. She uses the body as a tool for measurement and is interested in the 'extended body' and 'body as object' to consider questions around 'the self', 'the other' and 'the theatrical'.