Art and Activism in Latin America is a Despina project, with the support of the Dutch organization Prince Claus Fund. The project extends for three years (2016, 2017 and 2018). Each year, a theme guides a series of actions, including occupations, workshops, film screenings, exhibitions, public talks and a residency programme. For this third edition, the project brought DISSENT AND DESTRUCTION as its main theme and it happened between May and June 2018.
Three artists were selected to carry out a special residency at Despina. This residence was in tune with the purpose of the project to promote the exchange between Latin American and Brazilian artists and activists, so that new narratives – more democratic, transgressive and multicultural – are spread, amplified and heard. For the third edition, the objective was to converge practices which addressed issues related to the creation of new worlds and hereby the foundation of other modes of organization, forms of subjectivization, production models, exchange systems, remuneration mechanisms and educational methodologies: a path for a transformational existence capable of performing other ways of living, focused on affection and common sharing.
About 150 culture professionals were invited to nominate artists and activists whose practices deal with issues related to the theme that guides this year's edition of the project. The Selection Committee, formed by curators Guilherme Altmayer, Pablo León de la Barra, and Despina's artistic director, Consuelo Bassanesi, received approximately 70 nominations and from this number three names were selected: Ana Lira, Danitza Luna and Felipe Rivas San Martin.
During the months of May and June, the artists held workshops at Despina and developed their research and projects in response to the new environment. They also participated in a series of activities, such as talks, seminars and visits to public universities. At the end of the residency, the whole process was gathered in the exhibition "Dissent and Destruction".
Two highlights of this year's editon: the act-intervention "Strange Night: care, coexistence, agency", conceived by Gabe Passareli, Marta Supernova, Clarissa Ribeiro and Lorran Dias, in dialogue with the life, work and poetics of Matheusa Passareli + the workshop-process: "Active cartography of Networks of Care and Creation", coordinated by artist and researcher Cristina Ribas.
About the selected artists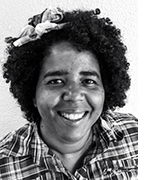 Ana Lira is a Brazilian artist who lives and works in Recife (Pernambuco, Brazil). Her work seek to discuss political experiences and collective actions as processes of mediation. Power relations and implications in the dynamics of communication are among the main issues of her art projects, which articulate visual narratives, press material, printed media and independent publications. She is a specialist in Theory and Criticism of Culture and in recent years has  developed independent research and curatorial work, as well as educational projects articulated with visual arts. Lira has participated in more than seven collectives for two decades. She is the head of the educational projects Visual Cities, Entre-Frestas and Possible Circuits, the latter related to the elaboration of photo-books and photo-zines. She received the 2015 Funarte Arte Contemporânea Award for the Non-Dito exhibition, which was presented at MABEU / CCBEU in Belém do Pará (2017) and at Capibaribe Centro da Imagem, in Recife (2015). She is the author of the book Voto, published by Pingado Prés, in 2014 (1ª ed.) and 2015 (2ª ed.). The book is part now of the São Paulo Pinacoteca collection and also of the Museum of UFPA Photo-book Collection. She is also a researcher in audiovisual projects – currently Lira is doing a research for the Terrane project, a visual narrative about women working in construction in the Brazilian semi-arid region, an experience related to the Casa da Mulher do Nordeste  ("Northeast Women's House"). During her residency at Despina, Ana intends to investigate the relationships between invisibility and power, through the mapping of knowledge and the sharing of information-culture which does not pass through large communication circuits. She will coordinate the workshop "On an Insurgent Feel", starting on May 28 at Despina.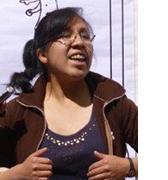 Danitza Luna is a Bolivian cartoonist and graphic designer who lives and works in La Paz. Graduated in Visual Arts from the Universidad Mayor de San Andrés, specializing in sculpture. Since 2011, she has been part of the anarcho-feminist movement "Mujeres Creando", one of the most important and influential political platforms in the country, which develops artistic intervention and performance projects in public spaces, as well as art and screen printing workshops and educational programs in universities and women's unions. Amongst the recent exhibitions she participated as part of "Mujeres Creando", we highlight:  "Muros Blandos", held at the Salvador Allende Solidarity Museum in Santiago de Chile (2017), where she developed, alongside artists and activists Esther Angollo and Maria Galindo, a series of provocative and ironic murals that brought the attention to some political and religious controversies around the discussions on gender identity. In 2016, she developed (also with Esther and Maria) a commissioned work for the Bolivian International Biennial of Arts –  the public intervention projects "Altar Blasfemo" and "Escudo Anarco-Feminista Antichauvinista", which took place on the external wall of the National Museum of Art City of La Paz. In 2015, she participated in the Medellin International Art Meeting – "Historias Locales / Prácticas Globales", in Colombia, where she coordinated with other members of the collective the screen printing workshop  "Grafica Feminista, No acepto ser cosificada" in the Muesu of Antioquia. The results of this experiment were displayed on a public mural in the streets of Medellin. During her residency in Rio de Janeiro, Luna will coordinate a "Feminist Graphic Workshop", which will take place on 7 different dates during the months of May and June. The results of these meetings will be compiled into a printed memory.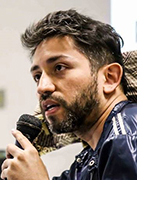 Felipe Rivas San Martín is a Chilean artist living and working in Valencia, Spain, where he is a fellowship PhD student at the National Commission for Scientific and Technological Research (CONICYT) – Polytechnic University of Valencia (UPV). He holds a Master's Degree in Visual Arts from the University of Chile. His practice includes painting, drawing, performance, video and it's related to technological image (virtual interfaces, digital codecs). He is the co-founder of the Sexual Dissidence Student Collective (CUDS), and has been participating in this activism platform since 2002. He also directed the magazines "Torcida" (2005) – about culture and queer criticism, and Disidenciasexual.cl (2009). Rivas links activism and artistic production with research, text and curatorship in relation to arts, politics and technologies, queer theory, post-feminism and performativity. During his residence in Rio de Janeiro, Felipe will present questions that go through his research, such as the disciplinary and control technologies to which homosexual bodies are subjected. In order to do so, he intends to use as an initial focus the case of the homosexuals of Rio de Janeiro in the 30's of last century, when they served as object of study for the book "Homosexuality and Endocrinology" (Leonidio Ribeiro, 1938). These techniques have been updated with the new data logic and computational algorithms, including projects that aim to identify the sexual orientation of people based on biometric and algorithmic analyzes. The notion of "data" has a double meaning: on the one hand, it refers to the data, that is, to the phenomenon of "computerization of sexuality". On the other hand, "data" refers to time ("Date" means "Data" in Portuguese). According to Felipe, these technologies of power go beyond time, and force activism to think about the timing of struggles. Hence arises his proposal of a "QueerRetrofuturism" as a methodology to address these problems of current activism alongside the technologies of power. "QueerRetrofuturism" intends to project the future of power and of the "maricas" struggles, through a look on the past of confrontations and experiences of violence.
***
Check below a short essay on the theme for this year's edition and also the full report in pictures.
past of confrontations and experiences of violence.
***
ART AND ACTIVISM IN LATIN AMERICA – YEAR III (2018)
Dissent and destruction
Like an earthquake, artistic and activist practices, through avant-garde and revolutionary actions, are capable of causing cracks in structures hitherto regarded as unshakeable. Discordant forms of life organization have long coexisted – equidistant, clandestine, or even in conflict – within normative and dominant models.
Given the incontestable failing of current social and political systems, which are still founded on inequality, indifference and injustice, what other forms of survival will be possible from this dystopian scenario?
Based on this question, we propose to articulate connected strategies of action in order to make the overthrow, the collapse and the implosion of the hegemonies possible: to think of new futures.
In this third year of Despina's Art and Activism in Latin America project, we will look at those who turn discontent into incendiary ideas and everyday conspiracies, having as tools of struggle collaborative spaces for insurrection and configurations of networks of counter-conduct.
Among topics as relevant and urgent as racism, mass displacement, cuir, indigenous extermination, gender violence, fake news, political persecution, normative processes and moralization of bodies, discourses and practices; we will welcome proposals permeating fields such as artificial intelligence, crypto-coins, hacktivism, algorithms, network regulation, afro-futurism, deconstruction of whiteness, legal activism, active education methodologies, community health, alternative spaces and systems of art and culture, alternative agricultural practices, speculative fiction, among many others.
We look for dissonant existences, ongoing tensions, radical positions; not as mere allegories but as the opening of loopholes in the economic, political and social operating systems. Transgressions that offer alternatives to cohabit the present, in full acceleration of the process of the ruins, which we can no longer stand to contradict without counter attacking.
***
Pictures Gallery 1 (horizontal scrolling)
Residency programme, meetings, talks, seminars, workhops, etc.
Photos by Frederico Pellachin
Pictures Gallery 2 (horizontal scrolling)
Noite Estranha: Cuidado, Convivência, Agência ("Strange Night: Care, Coexistence, Agency")
Photos by Denise Adams
Pictures Gallery 3 (horizontal scrolling)
Exhibition "Dissent and destruction" 
Photos by Denise Adams and Frederico Pellachin
***
Team
Project's conception and coordination: Consuelo Bassanesi
Development of this year's theme: Consuelo Bassanesi and Guilherme Altmayer
Production, Communication and Documentation: Frederico Pellachin
Production Assistant: Pablo Ferretti
Financial and Legal Management: Clarice Goulart Correa
Selection Committee: Consuelo Bassanesi, Guilherme Altmayer, Pablo León de la Barra
Selected artists in previous years
Year I- 2016 (Theme: Public Space)
Bubu Negrón (Porto Rico)
Crack Rodriguez (El Salvador)
Luciana Magno (Belém, Brazil)
——
Year II – 2017 (Theme: Body)
Carlos Martiel (Cuba)
Cristiano Lenhardt (Recife, Brasil)
Mariela Scafati (Argentina)