During the month of March 2016, Despina Residency Programme led a special cycle in partnership with Central Saint Martins, University of the Arts London. Four newly graduated artists were selected and commissioned – through an open call conducted by the British institution – to participate in our programme. Beatrice Vermeir, Carlotta Novella, Helena de Pulford and Sarah Crew worked together in Despina art studios (located in the old downtown area of Rio de Janeiro), received curatorial support and participated in a series of activities, including workshops, talks and seminars, as well as visits to other studio spaces and cultural venues.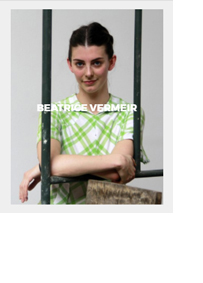 Beatrice Vermeir is a practicing artist, poet and critical writer based in London. Since graduating from Central Saint Martins, University of the Arts London, BA Fine Art Sculpture, in June 2015 she has undertaken a residency at Grizedale Arts in Cumbria, where she was involved in a project combining local food history with local and historical figure John Ruskin's experimental educational philosophy. The activities consisted of fermentation and cheese-making workshops as well as the running of a low-cost community cafe and vegetable garden. In November 2015, Beatrice collaborated with London based collective HouseRules to develop and realise a programme of artist-led walks in Peckham as part of the ArtLicks weekend. Beatrice is continuing to collaborate with this organisation, which focusses on re-purposing empty spaces in the city as educational or art-making spaces, in the development of a free summer school for 2016. Beatrice has also been involved in the capacity of director and costume designer in the theatrical production "You Are Me And I Am You" which played in late February at the VAULT Festival, Waterloo, London.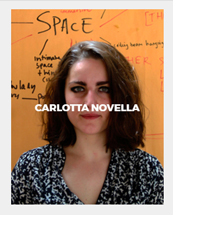 Carlotta Novella, originally from Venice, where she graduated with a BA in Construction Management, she now lives and works in London where she graduated in 2015 from MA Architecture: Cities and Innovation at Central Saint Martins, University of the Arts London. She is currently working with the art and architectural practice public works. Carlotta's work addresses contemporary socio-political and cultural issues through a spatial lens, focusing on the interplay of use within and between private and public spaces. Her fifth year project, 'Industrious Neighbourhoods', proposed alternative urban strategies and design interventions to facilitate home-based work for social housing tenants. A great believer in collaborative work and making, her projects include temporary, socio-spatial and mobile structures, architectural drawings, participatory workshops, events and performances. More information: http://carlottanovellaworks.com/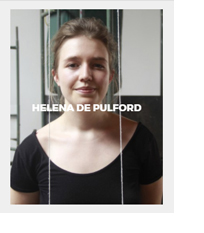 Helena de Pulford lives and works in London (England). Graduated with a first class bachelors degree from Central Saint Martins, University of the Arts London, she was awarded the Cass Art Prize and selected for the Acme associate studio programme. Helena's artistic practice is primarily sculptural but also incorporates performance, writing and moving image. Her work reinterprets European visual history through the lens of contemporary gender theory. Recent exhibitions include: 3×3 Collaborations for Art Licks Weekend 12 Orpen Walk, London (2015); Supermarket Sweep, Nice Galley, London (2015); Degree Show CSM School of Art, London (2015); Open Studios, 1 Granary Square, London (2014); Talking about Pink Salmon, 1 Granary Square, London (2014); Copy, Elthorne Road Project Space, London (2014) and Para-Site, Concourse Gallery, London (2013). More information: http://www.helenadepulford.com/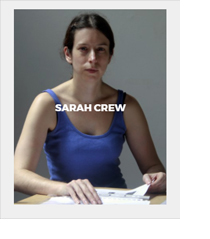 Sarah Crew lives and works in Bristol and London, graduating with a distinction in MA Photography from Central Saint Martins, University of the Arts London in 2015. She is a mixed media artist and writer, working across installation, film, sound and live performance. Her research-based practice explores the changing relationships, connections and points of disjuncture between the human, the animal and the landscape. The implications of these are scrutinised through contemporary technology within an increasingly tactile dualistic environment. More information: http://www.sarahcrew.com
For their collaborative project, the group of artists set out to re-imagine how the residency studio could be inhabited. In this, they moved away tables dispersed across the room (one per artist) to imagine one structure that would allow each practice to co-pollinate. This structure functioned as a built strategy not only for inhabiting the studio, but also for incorporating each artists lived experience during this transitory inhabitation of Rio de Janeiro.
From this brief, the group designed a 'core structure' that could adapt and develop for different functions, contexts and ideas. The name for this structure and the their collaborative project was 'Trânsito-Rio' ('transitory' being 'transitorio' in Portuguese). In addition to working collaboratively, each artist also worked on individual projects. The themes explored included collaborative work and communal making within the dwelling space of the home, alternative modes of social organisation, connections and points of disjuncture between the human, the animal and the landscape, gendered political activity and emerging feminist art practices in Brazil.
You can follow the development of "Transit-Rio" project through the web blog – http://transito-rio.weebly.com – which serves as a documentation platform of the processes experienced by the group in Rio de Janeiro.
They also participated in the First International Seminar of Art Schools at Parque Lage, where they were able to share their experiences with the public. And in partnership with MAR – Museu de Arte do Rio and Despina, artist Sarah Crew held a special workshop in collaboration with the education department of the museum. The public in the space was invited to build "umbrellas", with the objective of exploring the challenging scenarios of the 21st century. The structure of the umbrella became an object for visual discussions and playful explorations. As new landscapes were added to the structure, the umbrella as a whole came to reflect the curvature of the earth, resurfacing as a creative field to be investigated from above. Once completed, these three-dimensional sculptures (which the artist named "brella-scapes") also took the form of an installation, which was built throughout the activity.
At the end of the residency, a special exhibition was opened to the public at Despina, presenting the results of this collective experience. Check some pictures below.
Photo Gallery (horizontal scrolling)