A collaboration project between Despina and The Fruitmarket Gallery (located in Edinburgh, UK) was selected to participate in British Council's Exchange Programme in 2017-2018.
This programme has been designed by the British Council to build up connections between museums, cultural institutions and creative universities in Brazil and the UK. It encourages collaboration through the exchange of knowledge and best practice for the development of the cultural sector by providing resources for institutions to foster the capacity of staff and increase cross-cultural understanding, resulting in partnerships.
The British Council looked for candidates interested in the mutual exchange of professionals from institutions in Brazil and in the United Kingdom, allowing those selected to develop a residence with the partner institution or university for a minimum of two weeks and a maximum of one month. More than twelve collaborative projects were contemplated; find out more about the other organizations selected.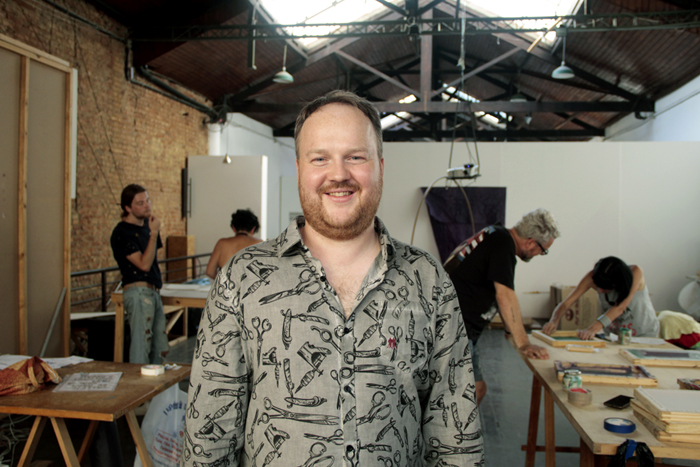 Iain Morisson, from The Fruitmarket Gallery, participates in the British Coucnil Exchange Programme with Despina
The first phase of this exchange has begun, with the arrival of Iain Morrison in Rio de Janeiro. Iain is the Enterprise Manager at The Fruitmarket Gallery in Edinburgh, Scotland, where he is responsible for commercial and cross-artform activity. Since the beginning of September, he has been observing Despina's Art and Activism Project and sharing The Fruitmarket Gallery's recent experiences of politically engaged programming. He is particularly interested in the ways we welcome and answer the expectations of marginalised audiences, including migrant and queer voices.
Iain trained as a musician and is a poet; he is currently writing a series drawn from talks in art galleries that responds to the way we group around and learn through participation in the life of a venue. With this project, he is currently Writer in Residence at University of Southampton's John Hansard Gallery.
Click here to learn more about The Fruitmarket Gallery's projects and actions. More information about the development of this exchange will be posted soon!